District 88 Board of Education appoints new Superintendent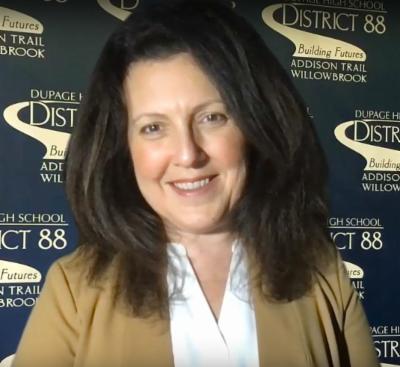 During its April 26 meeting, the District 88 Board of Education approved the appointment of Interim Superintendent Dr. Jean Barbanente (pictured above) as the district's new Superintendent, effective July 1, 2021.
"I have every confidence Dr. Barbanente will maintain the tradition of excellence that has been established here at District 88, as she has a consistent record of increasing rigorous academic opportunities for students, expanding social-emotional supports, cultivating inclusive environments at our schools, building strong stakeholder partnerships/relationships and championing equity," said Donna Craft Cain, District 88 Board of Education President. "Our vision at District 88 is to prepare students to be college, career and culturally ready, and Dr. Barbanente has been at the core of that work."
This past year, District 88 was faced with the adverse impacts of the coronavirus disease 2019 (COVID-19) pandemic, social/civil unrest and the loss of a true leader, education ambassador and friend in District 88 Superintendent Dr. Scott Helton. Dr. Barbanente stepped up to lead the district during one of the most challenging and unprecedented times in public education. She not only continued with the duties of her position as Assistant Superintendent, but she took on the role of Interim Superintendent as well.
Dr. Barbanente has been with District 88 for more than 25 years, and she worked side by side with Superintendents Dr. Scott Helton and Dr. Steve Humphrey. She joined District 88 in 1995 as a member of the World Language Department at Addison Trail, where she taught Italian and Spanish. In 2002, Dr. Barbanente transitioned to her first leadership role in District 88 as she took on the position of Director of Guidance at Addison Trail. In 2006, she was named as Director of Learning Services and was later appointed as Assistant Superintendent and has since provided leadership in the areas of teaching, learning, human resources, compliance, equity, special education and Pupil Personnel Services (PPS).
Dr. Barbanente has been at the heart of nearly all programs and initiatives at District 88. She serves on the Illinois Advisory Council for Bilingual Education; co-facilitates the DuPage County Equity and Excellence Committee; implemented the district's efforts with equity, culturally responsive teaching, trauma-informed practices and restorative practices; helped develop the District 88 C.A.R.E. Team (Committed to Academics, Resiliency and Equity); and is a member of the Village of Addison Sister Cities program with Triggiano, Italy, where Addison hosts students from Triggiano, and Addison Trail students travel to Italy.
"I am honored to serve as the next Superintendent of District 88 and to collaborate with all of our partners to accomplish our mission of working for the continuous improvement of student achievement," said Dr. Barbanente. "I look forward to working together to enhance the services, programs, supports and initiatives at District 88 to provide a comprehensive learning environment that builds futures for our students."
To read more about Dr. Barbanente's vision for the future direction of District 88 as we continue to move forward, go to www.dupage88.net/D-88Vision.
Dr. Barbanente received her bachelor's degree in Secondary Education with an emphasis on teaching Italian and Spanish from Dominican University (Rosary College) and earned her Master of Arts in Education degree in Curriculum and Instruction with ESL and Bilingual Concentration from National Louis University. She completed her Administrative and Superintendent Licensure program at Concordia University and received her doctorate in Educational Leadership from Aurora University, concentrating her research efforts in leadership for equity.
Dr. Barbanente is District 88's first female Superintendent and also is the district's first Superintendent to speak multiple languages (English, Italian, Spanish and Portuguese). She and her husband, Anthony, have two college-aged children and two dogs. Dr. Barbanente and her family enjoy traveling and participating in international missions and youth trips.