District 88 to allocate federal funds toward reconnecting students by enhancing, expanding and diversifying extracurricular opportunities
This video may take up to a minute to start after click the play button depending on your connection speed and browser.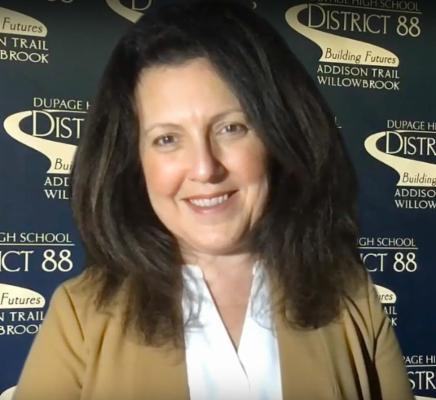 Pictured is District 88 Interim Superintendent Dr. Jean Barbanente.
At District 88, one of our main goals is for all of our students to feel respected, valued and safe and to connect in authentic ways with their peers and with our staff. As part of that focus, we are making it a priority to allocate resources to reconnect students as we move toward a post-pandemic environment. During the March 22 and April 12 Board of Education meetings, the District 88 administration recommended using federal Elementary and Secondary School Emergency Relief (ESSER) funds to coordinate the expansion of extracurricular offerings (clubs/activities and athletics) at Addison Trail and Willowbrook, making an effort to include more students from diverse backgrounds.
One of the greatest strengths of District 88 is the rich diversity represented among our students and staff. As we plan to enhance and expand our extracurricular offerings, we will do so in a culturally responsive manner. We are committed to ensuring all of our students can access our programs without barriers and that our offerings are diverse and inclusive to attract students who might not have considered participating in the past. We also plan to expand our efforts in schoolwide leadership and stewardship, with opportunities to connect with other schools and organizations in the region, state and nation.
During the April 12 Board of Education meeting, Addison Trail Athletic Director Matt Thompson and Willowbrook Athletic Director Brandon Murphy shared statistics from the West Suburban Conference and described how adding stipend positions will enhance recruitment efforts, increase participation and support a wider range of skill development. To watch the presentation, click the video above.
The administration is recommending to add the following stipend positions.
Addison Trail:
Girls Badminton
Boys Baseball
Girls Bowling
Boys Cross-Country
Girls Cross-Country
Girls Soccer
Girls Track and Field
Boys Volleyball
Girls Volleyball
Willowbrook:
Boys Baseball
Girls Bowling
Boys Cross-Country
Girls Cross-Country
Football
Girls Golf
Boys Track and Field
Girls Track and Field
Boys Volleyball
Girls Volleyball
The current ESSER funds are scheduled to be provided through 2023. We will continue to establish opportunities to connect students through extracurriculars to accomplish our mission of working for the continuous improvement of student achievement.
IHSA updates
During its April 12 meeting, the Illinois High School Association (IHSA) Board of Directors took action on several items, including:
A reduction in contact days this summer


Setting several spring State Final dates


Updates from the Illinois Department of Public Health (IDPH)



Students competing in low-risk outdoor sports and activities are no longer required to wear masks while competing.


The IDPH announced Illinois will fund optional testing for schools that wish to test their high-risk sports teams.
For further details, go to https://www.ihsa.org/News-Media/Announcements/april-board-meeting-includes-mask-updates-summer-contact-day-reduction-2021-22-ihsa-assessments-state-final-date-site-updates.
Thank you for your continued support of District 88.