Important updates from District 88 02/26/21
Pictured is District 88 Interim Superintendent Dr. Jean Barbanente.
District 88 Return to School Plan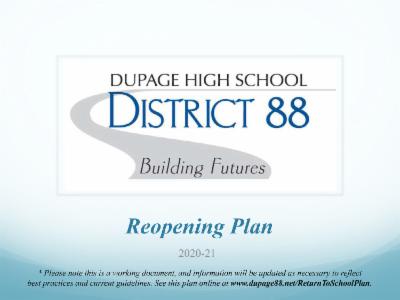 We are so excited to have more of our students safely return to campus each week, following the policies and procedures we have in place regarding social distancing, health and cleaning protocols. While we are currently in Stage 2 (Remote Plus) of our Return to School Plan, during its Feb. 22 meeting, the District 88 Board of Education approved the administration's recommendation to go to Stage 3 (Blended Remote/Hybrid) of our plan in March. The transition to Stage 3 will begin on March 18 with a small, targeted group of students. A full transition will be implemented on March 22.
During Stage 3 (Blended Remote/Hybrid), students will have the opportunity to receive instruction from inside the classroom two days a week. The daily block schedule will remain the same for all students (whether in person or remote). For more information about Stage 3, including important updates regarding transportation and operational procedures, go to https://www.dupage88.net/site/page/12604.
Student Expectations for In-Person Learning
Complete Wellness and Symptom Screener prior to arriving on campus.


Complete temperature check upon entry.


Masks shall be worn at all times in compliance with CDC Guidance.


Maintain social distance by being 6 feet apart.


During passing periods, continue directly to your next classroom and do not congregate or stop in the hallways.


Lockers will not be in use.


Water fountains have been disabled, except for bottle filler devices.


Food is not allowed in classrooms.


Students should wash their hands or use hand sanitizer upon arrival to campus, when entering the classroom (hand sanitizer), and whenever deemed necessary by the student or the teacher.



Students shall be allowed to leave the classroom to wash their hands at any time. Passes are not required for leaving the classroom.


Hands should be washed often with soap and water for 20 seconds.


It is recommended that hand hygiene is performed upon arrival to and departure from school; after blowing one's nose, coughing, or sneezing; and following restroom use.


Students who demonstrate consistent coughing or sneezing will be directed to the Nurse for further consultation.



In accordance with state and local laws and regulations, school administrators will notify local health officials, staff and families immediately of any case of COVID-19, while maintaining confidentiality.
We understand there are still questions and concerns – particularly regarding graduation and prom for the class of 2021 and what lies ahead for the 2021-22 school year. I assure you we are looking at a variety of options to celebrate our seniors, and we will continue to monitor regulations and guidelines to provide a safe and robust learning environment this fall. We will share more details as they become available. We know this has been a long and difficult year, and we appreciate the support and partnership of our stakeholders as we work together through this unprecedented situation to protect the health, safety and well-being of our students, staff and community members.
Our Return to School Plan is aligned with the DuPage County COVID-19 School Metrics Guidance. That guidance consists of six metrics that feed into three Community Transmission Levels (Minimal, Moderate or Substantial). Our Return to School Plan consists of three stages – Remote, Remote Plus and Blended Remote/Hybrid – and those stages are tied to the metrics. We are transitioning through the stages of our plan based on the movement of the county metrics. Although DuPage County remains in the Substantial Community Transmission Level, we are seeing improved numbers throughout the county and state at this time, and we are thrilled this will allow us to provide more opportunities for students to be in school. For details and the most up-to-date information about our Return to School Plan, go to www.dupage88.net/ReturntoSchoolPlan.
New Illinois Culturally Responsive Teaching and Leading Standards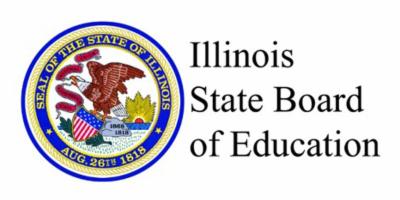 The Illinois State Board of Education (ISBE) recently adopted Culturally Responsive Teaching and Leading Standards to prepare future educators to teach diverse students. Educator preparation programs in colleges and universities will align their programs, course content and field experiences to the standards by Oct. 1, 2025.
The standards aim to foster classroom and school environments in which every student feels a sense of belonging. The standards support inclusion and equity for students by guiding educators to:
Self-reflect and gain a deeper understanding of how their life experiences affect their perspectives;


Understand that systems in our society create and reinforce inequities;


Learn from and about their students' cultures, languages and learning styles to make instruction more meaningful and relevant to their students' lives;


Value students' feedback and leadership;


Support and create opportunities for student advocacy;


Develop relationships with families and the community;


Curate the curriculum to include and represent a wide spectrum of identities; and


Ensure the diversity of the student population is represented within the broader learning environment.
At District 88, we are proud to have a diverse school community – we have about 40 languages and more than 30 countries represented among our families, and almost half of the nearly 4,000 students at District 88 speak a language other than English at home. Our core values include ensuring all students, staff and community members feel safe, valued, respected and welcome. As part of this effort, we continue to enhance our focus on equity and culturally responsive and trauma-informed teaching to meet the needs of each student. CLICK HERE for more information about the new Culturally Responsive Teaching and Leading Standards. We look forward to sharing more information about this topic in the weeks to come.
Thank you for your continued support of District 88.