District 88 teams up with health care partners, intergovernmental agencies to host COVID-19 community vaccination centers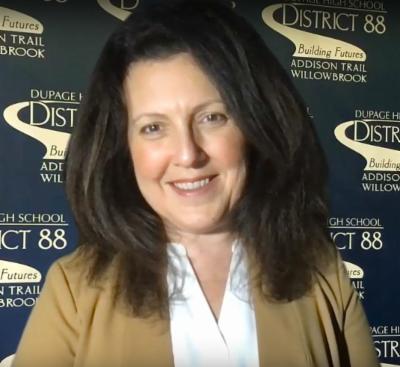 Pictured is District 88 Interim Superintendent Dr. Jean Barbanente.
The safety and well-being of our students and staff is our No. 1 priority in District 88. As we progress through our Return to School Plan, each week we will have opportunities to have more students and staff back on campus. As an important step in facilitating this process in the safest manner possible, we have been advocating on many levels to provide our staff with the COVID-19 vaccine.
We are incredibly blessed and grateful to have secured partnerships with Jewel-Osco and Genoa Healthcare to provide more than 4,900 doses of the Pfizer vaccine. Inoculations were/will be administered on Feb. 17, 18, 20 and 21 at Addison Trail to staff members at school districts 4, 45, 48 and 88; local parochial schools; local preschools; Technology Center of DuPage; and senior citizens (65 years old and older) from Addison, Lombard, Villa Park, Oakbrook Terrace and the surrounding communities.
This initiative was recently covered by Daily Herald reporter Jake Griffin. CLICK HERE to read the article. To view pictures from the events, see the photo gallery below.
These COVID-19 community vaccination centers are a tremendous example of what's possible when we come together to achieve a common goal. I would like to thank the following groups/individuals for their collaboration in making these events possible.
Jewel-Osco


Genoa Healthcare


The Village of Addison (including Mayor Richard Veenstra and Village Manager Joe Maranowicz)


The Addison Police Department (including Director of Police Timothy "Bill" Hayden)


The Addison Fire Protection District (including Fire Chief Scott Walker)


Addison School District 4 (including Superintendent John Langton)


District 45 (including Superintendent Dr. Tony Palmisano)


Salt Creek School District 48 (including Superintendent Dr. Jake Chung)


The Addison Trail, Willowbrook and District 88 administrative teams


Addison Trail, Willowbrook and District 88 staff members


The nearly 60 volunteers who helped run the centers
Offering our staff members and residents an opportunity to be vaccinated assists with returning to normality and moving toward reopening our schools. For more information about District 88's Return to School Plan, go to www.dupage88.net/ReturntoSchoolPlan. Updates will be shared with recommendations for the spring during the Feb. 22 District 88 Board of Education meeting. Thank you for your continued support of District 88.