Partnership for Inspired Education Foundation to host pop-the-trunk donation drive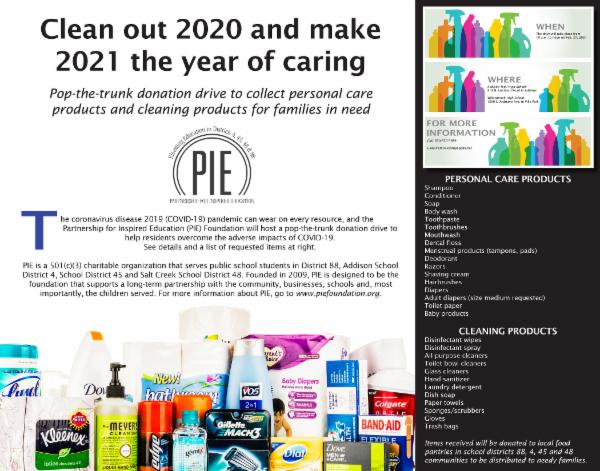 The coronavirus disease 2019 (COVID-19) pandemic can wear on every resource, and the Partnership for Inspired Education (PIE) Foundation will host a pop-the-trunk donation drive to help residents overcome the adverse impacts of COVID-19.
The event will take place from 10 a.m. to noon on Feb. 27 at Addison Trail (213 N. Lombard Road in Addison) and Willowbrook (1250 S. Ardmore Ave. in Villa Park).


See a list of requested items at https://www.dupage88.net/site/public/files/?item=5611. Items received will be donated to local food pantries in school districts 4, 45, 48 and 88 communities to be distributed to needy families.


For questions or more information, contact District 88 Director of Community Relations Dani Brink at dbrink@dupage88.net or 630-530-3989.
The PIE Foundation is a 501(c)(3) charitable organization that serves public school students in Addison School District 4, School District 45, Salt Creek School District 48 and District 88. Founded in 2009, PIE is designed to be the foundation that supports a long-term partnership with the community, businesses, schools and, most importantly, the children served. For more information about PIE, go to www.piefoundation.org.