District 88 Assistant Superintendent named as Interim Superintendent: Get to know Dr. Jean Barbanente
District 88 to host memorial to honor, remember and celebrate the life and legacy of Superintendent Dr. Scott Helton
Pictured is District 88 Superintendent Dr. Scott Helton, who passed away on Dec. 10. District 88 will host a memorial to honor, remember and celebrate Dr. Helton's life and legacy. The service will air at 7 p.m. on Jan. 28, and details can be viewed at https://www.dupage88.net/site/public/files/?item=5588.
---
District 88 Assistant Superintendent named as Interim Superintendent: Get to know Dr. Jean Barbanente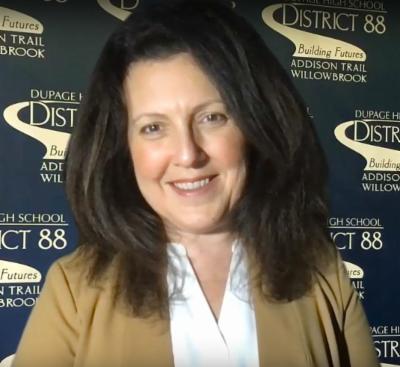 Pictured is District 88 Assistant Superintendent Dr. Jean Barbanente, who was named as Interim Superintendent during the Dec. 14 District 88 Board of Education meeting.
For more than 25 years, I have had the honor and privilege to be part of the District 88 family – and nearly 20 of those years were spent working side by side with former District 88 Superintendent Dr. Scott Helton.
It is with an incredibly heavy heart and great sadness that I step into the role of Interim Superintendent after the passing of Dr. Helton on Dec. 10. Yet it is with great pride and determination that I continue his legacy. Scott was not only a colleague and mentor – he also was a tremendous human being and friend, and he will be greatly missed. Scott can never be replaced, but I promise to uphold the tradition of excellence he helped establish at District 88 and to advocate for our students, staff, parents/guardians, schools and communities. We will host a memorial in honor of Dr. Helton to remember and celebrate his life and positive impact. The service will air at 7 p.m. on Jan. 28, and details can be viewed at https://www.dupage88.net/site/public/files/?item=5588.
From being in the classroom as a world language teacher, to leading the Addison Trail Guidance Department to serving as a District Director of Learning Services and then as Assistant Superintendent, I have had the opportunity to experience nearly all aspects of the district. I have been the chief adviser to two superintendents for the last 15 years and am confident I will be able to provide a seamless leadership transition to continue serving our students, staff and families. As Interim Superintendent, I will maintain our work to:
Develop programming, interventions and policies to close the opportunity gap, increase rigor and expand college and career access for all students


Increase opportunities for students to enroll in Advanced Placement (AP)/college-level, Honors and Dual-Credit courses


Increase vocational opportunities and global experiences for students through local and international partnerships


Implement social-emotional supports for students and staff through culturally responsive, trauma-informed and restorative practices


Ensure an equitable and inclusive environment in which all students, staff and community members feel safe and welcome


Maximize resources for student learning and offer a comprehensive curriculum to build futures for all students, while remaining fiscally responsible


Uphold our Mission, Vision and Strategic Plan (www.dupage88.net/StrategicPlan2018)


Connect with and care for students and staff to provide a positive learning experience during the coronavirus disease 2019 (COVID-19) pandemic (www.dupage88.net/ReturnToSchoolPlan)


Communicate with all stakeholders in a transparent and honest manner
This has been an unprecedented and challenging year as we deal with the loss of Dr. Helton, the adverse impacts of COVID-19 and social unrest. But we will get through this together. I look forward to partnering collaboratively with our Board of Education, staff, students, parents/guardians and community members for a seamless transition as we move forward in District 88. We will remain focused on accomplishing our mission of working for the continuous improvement of student achievement to champion student success.
My door is always open, and I welcome you to contact me at any time at jbarbanente@dupage88.net or 630-530-3980. Thank you for your continued support of District 88.

With District 88 Pride,


Dr. Jean Barbanente
District 88 Interim Superintendent