District 88 celebrates National Principals Month
This video may take up to a minute to start after click the play button depending on your connection speed and browser.
We celebrated Principals Week from Oct. 18 to 24 and Principals Day on Oct. 23.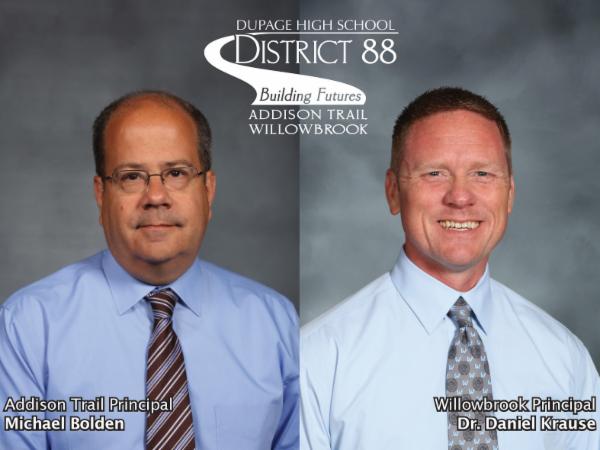 We would like to thank our Principals, Michael Bolden at Addison Trail and Dr. Daniel Krause at Willowbrook (pictured above), for their visionary leadership and dedication to accomplishing our mission of working for the continuous improvement of student achievement. As we continue to face the challenges of the coronavirus disease 2019 (COVID-19) pandemic, the importance of providing positive guidance for staff and students and pursuing success for each pupil has never been more evident. Mike and Dan work tirelessly with their teams to ensure a high-quality educational experience for all students, and their commitment to caring for and connecting with kids is apparent in everything they do. National Principals Month takes place each October to recognize our principals and thank them for all they do to build futures for our students.
According to www.principalsmonth.org, "American Federation of School Administrators (AFSA), the National Association of Elementary School Principals (NAESP) and the National Association of Secondary School Principals (NASSP) – as well as district leaders, policymakers, parents, students, teachers and school leaders – come together (each October) to not only celebrate these heroes of education, but also to advocate for school leaders everywhere."
We honored Mike and Dan during the Oct. 19 District 88 Board of Education meeting with proclamations from Illinois Gov. JB Pritzker and the villages of Addison, Lombard and Villa Park, and we also shared a video with photos of Mike and Dan and images of marquees throughout the community with messages celebrating the event. To watch the presentation, click the video/audio file above.