District 88 students gain hands-on construction experience with OUR HOME iMPROVEMENT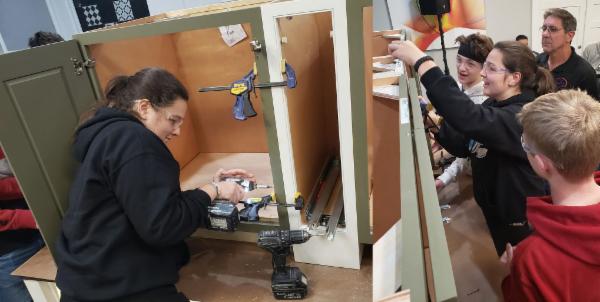 On Dec. 10, 46 Addison Trail and Willowbrook students participated in a hands-on experience at OUR HOME iMPROVEMENT (OHi) in Elk Grove Village (pictured above). The field trip was the last of a four-part series, where District 88 pupils traveled to OHi once a month to attend classes on various industry topics and work on a job site.
During the first visit, students learned about design, foundation and framing and also received an initial trade presentation. During the second outing, they learned about plumbing, HVAC and electrical. The third trip focused on exteriors, cabinetry and flooring. On Dec. 10, the topics were plumbing fixtures, counters and lighting.
The plan is to have the participants apply and interview for a summer apprenticeship with the company. The program was open to students 16 years old or older enrolled in Building Trades, Woods or Architectural Drafting and Design 1 and 2 courses at Addison Trail or Willowbrook.