District 88 recognizes October 2019 as National Principals Month
This video may take up to a minute to start after click the play button depending on your connection speed and browser.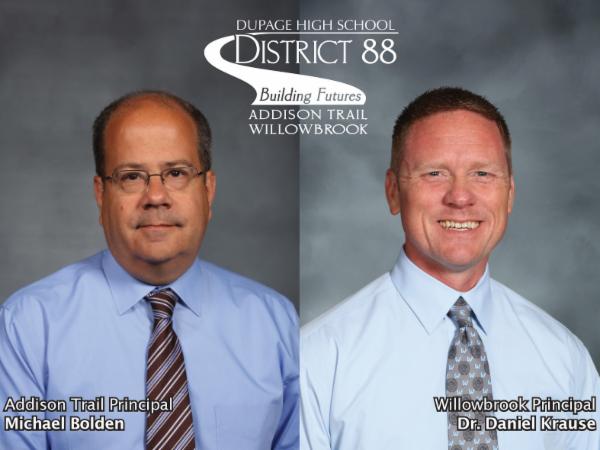 During its Oct. 21 meeting, the District 88 Board of Education adopted a resolution recognizing October as National Principals Month and thanked Addison Trail Principal Michael Bolden (pictured above, at left) and Willowbrook Principal Dr. Daniel Krause (pictured above, at right), along with their teams, for their leadership and vision. As administrators, they put in countless hours to continue to improve District 88 and build futures for students.
The National Association of Secondary School Principals, the National Association of Elementary School Principals and the American Federation of School Administrators designate October as National Principals Month to honor the hard work and dedication of America's school leaders. Read more at www.principalsmonth.org. This year's celebration culminated with Principal Appreciation Week from Oct. 20 to 26 and Principal Appreciation Day on Oct. 25 in Illinois.
The State of Illinois and the villages of Addison, Lombard and Villa Park provided proclamations to recognize the event. A video also was played during the meeting that featured messages of support that were displayed on marquees and signs throughout the communities. See that video above.
District 88 is fortunate to have incredible leaders and amazing teams at its schools. Addison Trail and Willowbrook students achieve tremendous accomplishments as a result of the district's partnerships – it takes a dedicated and passionate staff, a knowledgeable Board of Education, engaged students and involved parents/guardians and community members. With that support, the district is able to accomplish its mission of working for the continuous improvement of student achievement.