College of DuPage to launch Project Hire-Ed Apprenticeship Program with Village of Addison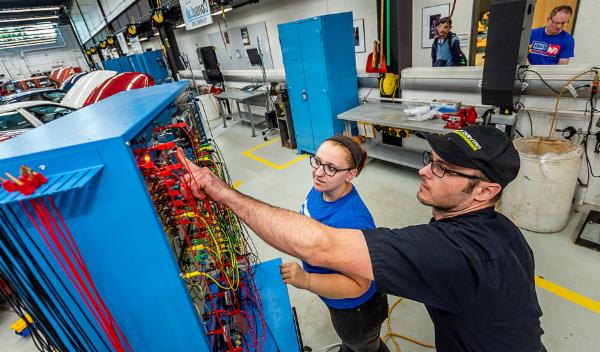 By: Jordyn Holliday (College of DuPage)

College of DuPage is partnering with the Village of Addison to launch the pilot model of Project Hire-Ed, the College's new apprenticeship program that aims to address what business leaders believe is absent in the skills set of some recent graduates and what is missing from the workforce. The new initiative focuses on classroom curriculum, on-the-job skills building and employment in today's marketplace.
A recent CNBC survey of company presidents and CFOs reveals that 46 percent believe the workforce is not developing the proper skills businesses require—and Project Hire-Ed and the Village of Addison are working to develop talent pipelines to address this need.
"Understanding current conditions and anticipating the future needs of the District 502 business and manufacturing sector allows the College to better support workforce development," said College of DuPage Interim President Dr. Brian Caputo. "This unique program combines existing college coursework with work-based learning targeted specifically to the needs of our pilot business partners."
Students enrolled in Project Hire-Ed benefit from full-time employment while developing job skills through college courses and work-based learning. The program is open to all ages and backgrounds, including COD students, high school students, recent high school or GED graduates, career changers, veterans and more. The inaugural businesses that are partnering with Project Hire-Ed include: Pioneer Service Inc., SWD Inc. and Mauser Packaging Solutions.
Classroom curriculum consists of four courses that focus on foundational skills: Industrial Safety, Customer Service, Technical Writing and Microsoft Office software and six technical skills classes, depending on the specific job track. These include Manufacturing Machining, Welding, Manufacturing CNC, Industrial Maintenance, Facility Maintenance, HVACR Service and Electro-Mechanical/Mechatronics.
"The benefits of Project Hire-Ed are two-fold," said Linda Sands-Vankerk, Vice President for Project Hire. "Those who participate in the program gain valuable work skills and college credit, which they can build upon in the future to further their studies, while our partner businesses gain skilled employees."
"Workforce development is critical for the success of our businesses as well as residents here in Addison," said Richard Veenstra, Village of Addison Mayor. "I've heard from several manufacturers that are turning away work because they cannot find enough skilled labor. I am very excited to see the Addison Model as the pilot for the Project Hire-Ed Apprenticeship Program. Through partnership with our local businesses, DuPage High School District 88 and College of DuPage, we can provide our residents with the skills they need for lucrative careers while providing our businesses with the workforce they desperately need resulting in a successful local economy."
DuPage High School District 88 Superintendent Dr. Scott Helton said that the new initiative supports his district's mission.
"At DuPage High School District 88, our mission is to work for the continuous improvement of student achievement," he said. "The Project Hire-Ed Apprenticeship Program aligns with that mission and is a tremendous and innovative opportunity to provide our students with real-world experiences in which they can apply lessons being taught in the classroom to available careers in the community. We truly appreciate and value this partnership with College of DuPage and the Village of Addison's Workforce Development Committee, and we look forward to working together to build futures for the students of District 88 and ensure they are college and career ready."
Students must attend a one-credit Project Hire-Ed Seminar class for program eligibility. The seminar introduces program options, career pathways, career readiness skills development services and participating employers.
For more information, new students should contact Angela Nackovic at 630-942-2398 or nackovic@cod.edu, while current students should contact Peter Deeman at 630-942-2548 or deemanp@cod.edu.
TWO UPCOMING PROJECT HIRE-ED INFORMATION SESSIONS:
What: Through these sessions, participants will learn and have an opportunity to ask questions about Project Hire-Ed, a new apprenticeship program in partnership with College of DuPage and Village of Addison. Students enrolled in Project Hire-Ed benefit from full-time employment while developing job skills through college courses and work-based learning.
When: 5 p.m. on July 10 and 17
Where: College of DuPage, 425 Fawell Blvd. in Glen Ellyn (TEC Building, Room 1003)