District 88 partners with local businesses to provide students with real-world opportunities in the workplace
District 88's mission is to work for the continuous improvement of student achievement. As part of that mission, the district partners with area businesses to provide students with real-world experiences in the workplace. Those opportunities help prepare students for college and career.
This school year, Willowbrook again partnered with the Greater Oak Brook Chamber of Commerce and Economic Development Partnership to provide two opportunities for students.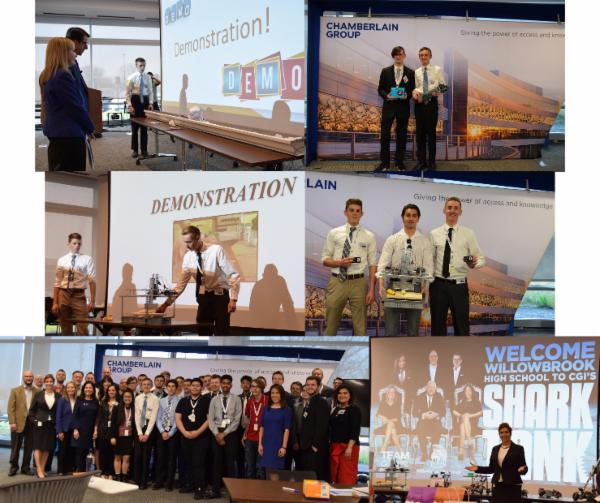 Chamberlain Group: Through Chamberlain Group's ONETeam Cares Program, CGI is committed to empowering the next generation of engineers by providing opportunities for students passionate about STEAM careers. In collaboration with the Greater Oak Brook Chamber of Commerce Bridge Partnership Program, CGI's engineer volunteers mentored Willowbrook pupils in classroom sessions since January to develop their own smart home robots. On April 30, those seven student teams presented their robots to leaders during CGI's first Shark Tank event. They shared the features and benefits of their product, as well as future plans for enhancements. They also implemented a mobile application, discussed what they learned through the project and answered questions from the judges. After the presentations, CGI leaders also hosted mock interviews with the participants. The teams were evaluated on product creativity/critical thinking, oral/written communication, effort/professionalism, teamwork and their product demonstration. Nicholas Lapshin, Tomas Pelesinas and Thomas Danielson were selected as the Shark Tank winners for their "Gutter Cleaner" robot (pictured above, top row). The People's Choice award went to Andrew Rugg, Luke Eggert and Drake DelValle for their "Sous Chef" food-chopping robot (pictured above, middle row). Pictured above, bottom left: CGI staff members pose with Willowbrook students who participated in the Shark Tank event. Pictured above, bottom right: CGI Chief Executive Officer JoAnna Garcia Sohovich congratulates the Shark Tank participants.


Ace Hardware: Since February, representatives from Ace Hardware have met with 31 students in Willowbrook's Sports and Entertainment Marketing classes. The groups met about once every other week to work on their projects. Students learned there is a lot more to marketing a product than packaging and commercials. The goal was for participants to develop an understanding of critical thinking/problem solving, professionalism/work ethic, teamwork and oral/written communication. Students were required to do comparative shopping, create a rating sheet they used for a barbecue sauce and rub taste test (pictured above, bottom), create informative slideshows they presented, determine profit margin and create a plan-o-gram. The pupils visited the Ace Hardware warehouse (pictured above, left), as well as a Sweet Baby Ray's Barbecue restaurant (pictured above, right), where they met Dave Raymond (creator of Sweet Baby Ray barbecue sauce) and his nephew Duce Raymond.
District 88 also continued to work with the Addison Workforce Development Committee this school year. This committee is comprised of the Village of Addison and local businesses and organizations. The focus of the group is two-fold:
Collaborate to provide opportunities to train students and adults for jobs available in the area (as well as offer programs such as internships and job shadowing)


Develop a directory of local businesses (including contact information, open positions and skills employees need to have)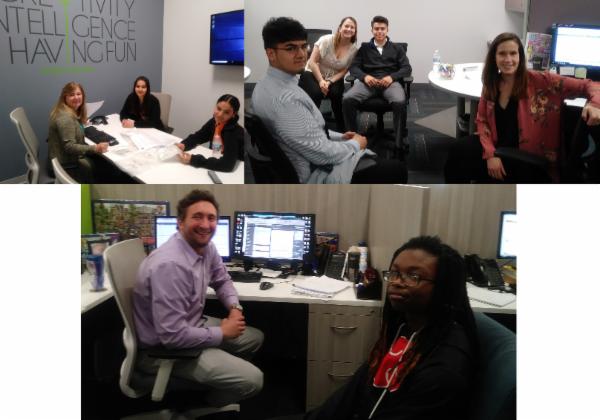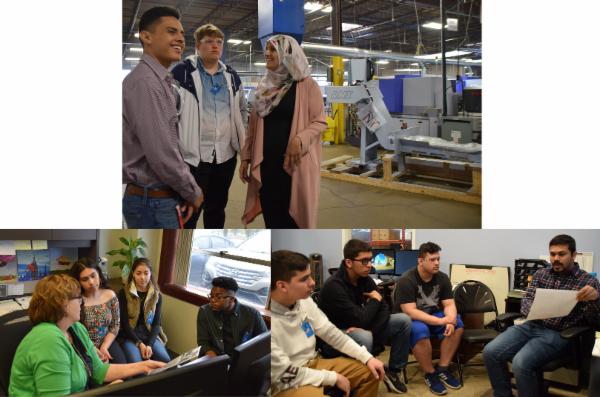 The committee's focus is to discover the needs of employers and train local students and adults to meet those needs. To help reach that goal, the group coordinated mentorship/job shadowing opportunities, where students worked with employees on actual projects in various departments. In April, a group of 30 Addison Trail students partnered with employees at SWD Inc. (pictured above, top), The Cary Company (pictured above, middle) and Pioneer Service Inc. (pictured above, bottom).