District 88 shares important information about new delivery model for instructional technology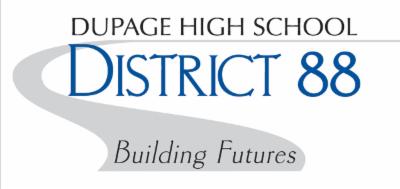 As part of our mission to work for the continuous improvement of student achievement, we continuously evaluate best practices and models with regard to technology and providing a 21st-century learning environment for our students.
We are excited to share a new delivery model for instructional technology that will benefit our students. On Nov. 13, 2017, the District 88 Board of Education approved redirecting funds currently used to buy Chromebooks/laptops for carts that are checked out by teachers for student use. That money will instead be used to provide each freshman (starting with the class of 2022) with a Chromebook for in-school and out-of-school use, beginning in fall 2018. The district will phase in this model (starting with the class of 2022) to ensure the most cost-effective, efficient and high-quality implementation.
The fee for the Chromebook will be divided over four years (a waiver will be offered to qualifying students), which will allow students to own their device after they leave District 88 (students who leave before four years would need to pay the fee difference). We are committed to analyzing and reducing other textbook and fee costs to control expenses for our families. More information and details will be sent home to parents/guardians.
We know enhancing technology in the classroom will provide teachers with more tools to enrich the high-quality learning environment for our students. Other benefits include:
Students will increase their ability to use digital tools and be better prepared for the ever-changing technology landscape they will encounter in college and in the workforce.
This model will minimize the "digital divide" within the district, as all students will have access to a device, regardless of accessibility outside of school.
Students will be able to access classroom content at all times at school, home or in the community.
District 88's associated elementary school districts (Addison School District 4, School District 45 and Salt Creek School District 48) have one-to-one technology initiatives, which means members of the class of 2022 and their families will be familiar with this type of model.
The district's current Chromebook/laptop carts will remain available for upperclassmen, but won't be replaced as they wear out. Addison Trail and Willowbrook also have six labs each with wired desktop computers, which will be maintained as well. The district also is looking at other options for upperclassmen, and details will be shared with those students and families.
For questions or more information about District 88's new delivery model for instructional technology, contact District 88 Director of Technology, Teaching and Learning Dr. Aaron Lenaghan at alenaghan@dupage88.net or 630-782-3133. Thank you for your continued support of District 88.
IMPORTANT INFORMATION FOR THE CLASS OF 2022 - CHROMEBOOK DETAILS
Below is additional information regarding third party insurance for lost or stolen devices.
Third Party Optional Insurance