Student Services
To view the Top 5 Transition Supports, click on the image or link below.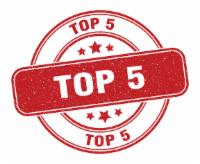 Support topics include:
Prioritization for Urgency of Need for Services (PUNS)
Guardianship
Social security
Medicaid
Financial planning
---
Homeless Student Information
DuPage High School District 88 welcomes all students who reside within its boundaries, or whom are otherwise eligible to attend its schools. Please refer to Board Policy 6:140 Education of Homeless Children for information about our commitment to students who are considered homeless.
District 88 uses the definitions of homelessness and addresses the educational rights of students who are homeless as set forth in the McKinney-Vento Homeless Assistance Act. Read more at https://dupage88.net/site/page/15177.
For questions or more information, contact District 88 Director of Student Services Alena Edwards at aedwards@dupage88.net or 630-530-6079.
---
Special Education in District 88
The Special Education Departments in DuPage High School District 88 are committed to providing a comprehensive education to all identified students in accordance with their handicapping condition. It is believed that with appropriate curriculum and support services, all students can become life-long learners. Special Education has a critical responsibility to provide a structure that allows equal opportunities for all students, tailored to their individual needs. A major focus of each of the programs is to assist the students in developing needed skills including academics, self-advocacy, vocational and life skills to allow for a successful transition from school to adult life.

In compliance with IDEA and the "Rules and Regulations to Govern the Administration and Operation of Special Education," mandated by the Illinois State Board of Education, DuPage High School District 88 offers special education classes and services designed to meet the unique needs of students with the following handicapping conditions:
Visual Impairment
Specific Learning Disability
Hearing Impairment
Emotional Disability
Physical Impairment
Intellectual Disability
Speech/Language Impairment
Autism
Other Health Impairment
The DuPage High School District 88 staff strives to provide an appropriate special education program in the least restrictive environment. Working to comply with State Board of Education inclusion initiative (including transitional programming), materials are selected according to the student's functional ability and vary depending on program and year in school. Specific programs may be offered within District 88 or at other appropriate, approved sites. Special Education placement options in District 88 include the following:
Placement in the General Education environment without supports.
Placement in the General Education environment with supports (The District has drastically expanded Co-Teaching models across the curriculum.)
Placement in a Special Education setting. District 88 has self contained programming on each campus for students with severe academic, behavioral, and cognitive needs. District 88 also offers transition services and programming for students up to age 22 (see details below).

PA 102-72 (HB 40) amends Section 14-1.02 of the School Code, extending eligibility to the end of the regular school year for students whose 22nd birthday falls within a regular school term. "Regular school term" is defined in the guidance as the term that is specified in the regular school calendar as adopted by the student's serving entity. It does not include extended school year (ESY).


Placement in an "off campus" facility. District 88 partners with more than 50 different public and private facilities to ensure that the unique needs of District 88 students can be met.
As required by law, program placement is determined by the IEP team based on each student's individual needs. Students can be placed full time or part time into any of the above programs without barriers to enrollment.

Appropriate District 88 staff participates on the Behavior Interventions Committee. This committee develops policies and procedures for students with disabilities who require behavioral interventions. This is in accordance with P.L. 89-191 and the guidelines set forth by the Illinois State Board of Education.

All students are expected to comply with the rules and regulations as stated in the Parent Student Handbook, which outlines the District 88 discipline policy. In specific circumstances where general policies are not sufficient /effective, an individual behavioral intervention plan may be developed.

Each year a copy of the procedural safeguards and rights for students with disabilities are furnished to all parents and/or guardians of students with disabilities receiving special education and related services. Additionally, all students and parents are notified concerning the District 88 policy on "Behavioral Interventions for Students with Disabilities."

Parents or students interested in knowing about the programs and specific classes available in District 88 should contact the Special Education Department Chair at the individual schools. Please click on each school to access their Special Education Department's website.



Important notice
Students with disabilities may receive related services as part of their individual education programs (IEPs). DuPage High School District 88 will maintain related service logs that record the type and number of minutes of the related service(s) administered to such students. Copies of any related service logs will be available to parents/guardians at their child's annual review IEP meeting. Parents/guardians of students with disabilities may also request copies of their child's related service logs at any time.