Addison Trail-Willowbrook Boys Swim Team wins first Boys Swimming WSC Championship in school history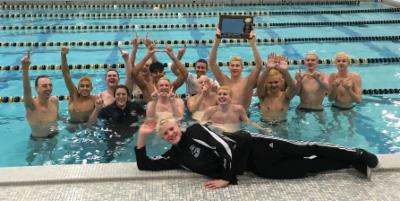 On Feb. 4, members of the Addison Trail-Willowbrook Boys Swim Team made school history by becoming the schools' first Boys Swim Team to win a West Suburban Conference Gold Division Championship.
The team went undefeated (5-0) in Conference dual meets this season and will now compete in the Sectional meet on Feb. 18 at Downers Grove South High School.
Pictured above are members of the team. They are (from left to right, front row to back row) Willowbrook freshman Thomas Holmes, Willowbrook junior Jeremy Vaupell, Coach Amy Martello, Addison Trail junior Lucas Walsh, Addison Trail junior Michael Strycharz, Addison Trail freshman Marco Chaidez, Willowbrook sophomore Robert Fagan, Willowbrook junior Mohamed Eldeen Allam, Willowbrook senior Jacob Roucka, Addison Trail junior Jacob Grygo, Willowbrook freshman Eric Hoda, Willowbrook junior Jack Wentworth, Coach Neil Wahlgren, Willowbrook junior Phillip Campbell, Willowbrook sophomore John Burns and Addison Trail sophomore Evan Zimmerman.