Addison Trail to present spring play, 'The Brothers Grimm Spectaculathon'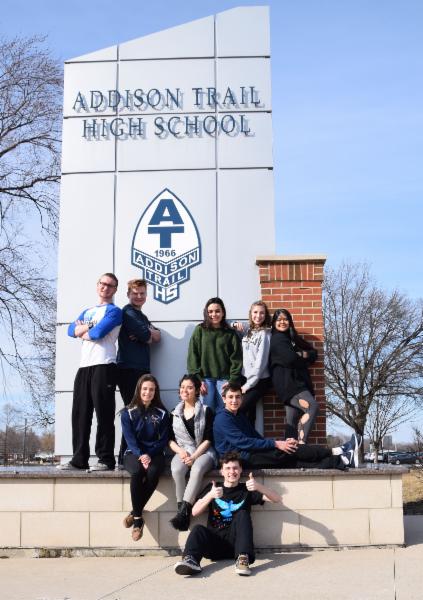 Pictured are the cast members of Addison Trail's upcoming spring play, "The Brothers Grimm Spectaculathon" by Don Zolidis. They are (back row, from left) senior Edward Ficarra, sophomore Ryan Ficarra, senior Gianna Caruso, junior Teagan Whitaker, senior Rosemarie Mercado, (middle row, from left) junior Tina Tagaris, senior Andrea Perez, freshman Adam Sakleh and (front row) senior Connor White. The show will take place on April 4, 5 and 6 at the school.
Addison Trail Theatre invites everyone to enjoy classic fairy tales – with a dark and humorous twist – during the school's spring play, "The Brothers Grimm Spectaculathon" by Don Zolidis.
The show is comprised of nine students portraying themselves on stage as they act out scenes from "Rumpelstiltskin," "Rapunzel," "Hansel and Gretel," "The Frog Prince," "Snow White," "Little Red Riding Hood" and "Cinderella."
"This season has been a bit heavy with more serious productions and genres, and I chose 'The Brothers Grimm Spectaculathon' for something fun to end the year on a light and silly note," said Anna McSweeney, Addison Trail Theatre Director. "I wanted something that involves audience engagement and improv, and this show definitely encompasses both of those aspects. The style of the play also allows the actors to grow and test their skills, which is always wonderful to see."
Addison Trail senior Gianna Caruso, who plays one of the two narrators, said the performance will offer a lot of surprises.
"The audience can look forward to the unexpected," Caruso said. "As a line in the show reads, 'We're here to do a very quick, fast and kind of funny version of Brothers Grimm fairy tales.'"
Addison Trail senior Connor White, who plays the second narrator, said the small size of the cast created a close-knit environment.
"We all bonded and instantly clicked, and that comes through on stage," White said.
"The Brothers Grimm Spectaculathon"
When: 7 p.m. April 4, 5 and 6 (also a 2 p.m. performance on April 6)
Where: Addison Trail, 213 N. Lombard Road in Addison (in the Black Box Studio Theatre)
Tickets: Tickets will be available to buy at the door and cost $7 for adults, $5 for students and children ages 3 to 12, $3 with an Activity Pass and are free with a District 88 Senior Gold Card.
*IMPORTANT NOTICE: There is limited seating for this show, and only 100 tickets are available for each performance. Please arrive early to ensure a seat.
For questions or more information: Call 630-628-3365