District 88 honored with three state-level INSPRA Distinguished Service Awards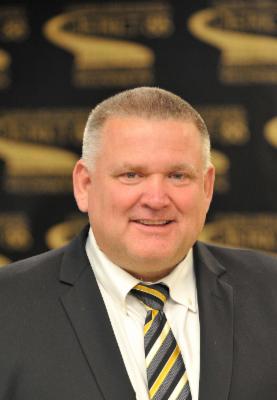 Pictured is District 88 Superintendent Dr. Scott Helton.
I'm proud to share on May 11, District 88 was honored with three Distinguished Service Awards (DSA) from the Illinois Chapter of the National School Public Relations Association (INSPRA).
That statewide program recognizes stakeholders who fulfill their role as public relations ambassadors for education and is a tremendous opportunity to recognize deserving education staff and supporters of local school districts. For more information about the DSA program, go to www.inspra.org/DistinguishedServiceAwards.aspx. District 88 received the following three awards:
Willowbrook parent Elaine Ebeling – Award of Excellence in the Parent category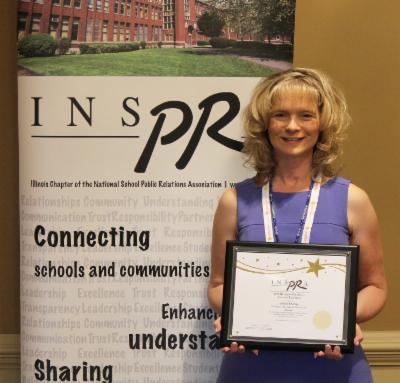 When you walk into an event at Willowbrook, there's one face you're almost always sure to see – parent Elaine Ebeling (pictured above).
Ebeling is a member of nearly every parent and community group at Willowbrook, including the District 88 Foundation and the Citizens Advisory Committee, and she also served as co-coordinator of volunteers for the school's Young Hearts for Life Cardiac Screening Programs. Ebeling's efforts are even more apparent through her involvement with the Willowbrook Parent Organization, of which she has been a member for eight years and has served as President for the last six years.
But Ebeling doesn't just participate in those groups – she goes a step further by envisioning, developing and implementing new programs to benefit students. Ebeling worked with administrators to initiate a Craft Fair, a Trivia Night, a Winter Apparel Drive and Cinderella's Closet, where people can "be green" and "recycle" gently used Prom and Homecoming dresses for other students to enjoy.
"Having a parent like Ebeling take the lead and work with us to create events to assist our students and families truly is everything," said Willowbrook Principal Dr. Daniel Krause. "When you have a person who is willing to do whatever it takes to find the resources and people to support our kids and promote public education in the community, there's nothing more you can ask for as a Principal. Ebeling is very involved in the education of her own children, but she also has the passion and ability to see the big picture of how her efforts will help multiple students for years to come. She epitomizes what it means to be a Willowbrook Warrior parent."
To read the full nomination for Ebeling, go to https://www.dupage88.net/site/public/files/?item=3962.
Willowbrook Music Department Head Karyn Wolcott – Award of Merit in the Faculty/Certified Staff category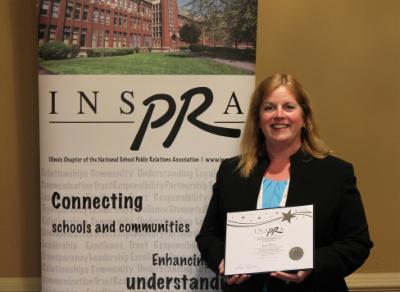 For 20 years, Karyn Wolcott (pictured above) has been instrumental in continuing the legacy of success of Willowbrook's music department. She has served as the Music Department Head for the last six years and also is the choral director and director of CenterStage, the school's show choir. She teaches Advanced Placement (AP)/college-level Music Theory, Class Piano and Class Guitar and is the sponsor for the Tri-M (Modern Music Masters) Honor Society as well.
Willowbrook Principal Dr. Daniel Krause said what makes Wolcott stand out is her commitment to going above and beyond and providing opportunities for Willowbrook music students to perform at events outside of school and gain real-world experiences.
The choirs frequently sing at local venues such as chamber and rotary events and also travel to area assisted living and memory-care facilities to share their music. The musicians also perform every Friday for students in the School Association for Special Education in DuPage County (SASED) room at Willowbrook. Wolcott also helped plan and organize a trip in March 2017, where the Concert Choir toured Toronto. Beyond sharing their vocal talents, members of Tri-M also give back to the community through participating in service projects and volunteering at Feed My Starving Children events.
Under Wolcott's guidance, the Concert Choir also was recently selected to perform during the Illinois Music Education Conference, where the group premiered a piece created in memory and honor of former District 88 Board of Education member and Willowbrook alumnus Mark Johnson, who passed away in December 2014 after a battle with cancer.
To read the full nomination for Wolcott, go to https://www.dupage88.net/site/public/files/?item=3963.
Addison Trail Pay It Forward/Freshmen Orientation – Award of Merit in the Team category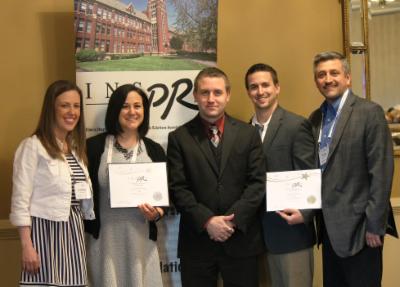 Transitioning to high school can be a difficult time, as being a teenager and adjusting to a new school can be challenging.
That's why Addison Trail offers an event called Pay It Forward, where incoming freshmen spend the day with Addison Trail students and staff, learning what it means to be an Addison Trail Blazer. The day includes a Freshmen Orientation component, various leadership workshops, speakers, team building exercises and activities to help students understand what it means to "Pay It Forward" in high school and in life. The event concludes with a reflection period and a dance, where students are able to celebrate their work.
For more than 15 years, this event has provided eighth-graders with an opportunity to build a foundation at Addison Trail. And it truly takes a team to make the day a success. About 100 volunteers help ensure everything runs smoothly. The planning team, which includes a CORE team of about 75 high school student leaders, meets for several months to coordinate the details through about 20 training sessions. Those CORE team members also travel to the local elementary school districts to chat with eighth-graders about Pay It Forward and promote the event.
This year's Pay It Forward co-sponsors are (pictured above, from left to right) Lindsay Bugajsky, Lauren Ross, RJ Budler, Jack Andrews and Jorge de Leon.
"One of the highlights of Pay It Forward is it's another way to align Addison Trail with its feeder elementary schools," said Andrews, an Addison Trail alumnus (class of 2011), who participated in Pay It Forward as an eighth-grader and has helped coordinate the event ever since. "This event allows students to form connections and helps create a welcoming environment. High school is about more than academics – it's about finding yourself. And Pay It Forward helps provide that holistic high school experience."
To read the full nomination for the Addison Trail Pay It Forward team, go to https://www.dupage88.net/site/public/files/?item=3964.
I truly appreciate the passion and commitment of these honorees to our students. They are true examples of the partnerships that help our students succeed and allow us to accomplish our mission of working for the continuous improvement of student achievement.