Addison Trail celebrates and recognizes alumna's Olympic journey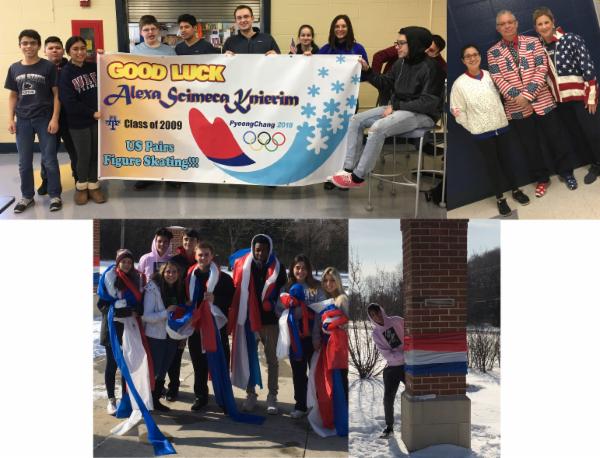 Top left: Addison Trail students hold a banner wishing alumna Alexa Scimeca Knierim (class of 2009) good luck as she competes in the PyeongChang 2018 Olympic Winter Games with her husband and pairs figure skating partner, Christopher Knierim. The school hosted an "Alexa Scimeca Knierim Day" on Feb. 13 to celebrate and recognize her success. Top right: (From left) Addison Trail physical education teacher Mayra Carrera, art teacher Tim Hockensmith (who designed the banner at left) and physical education teacher Sheri D'Ambrose wear red, white and blue on Feb. 13 to show their support of Scimeca Knierim. Bottom left and right: Addison Trail students decorate the trees around the school with red, white and blue ribbons in honor of "Alexa Scimeca Knierim Day."
Pictured is Addison Trail alumna Alexa Scimeca Knierim (class of 2009), with her husband and pairs figure skating partner, Christopher Knierim. The couple recently competed in the PyeongChang 2018 Olympic Winter Games. Photo by Jay Adeff/U.S. Figure Skating
On Feb. 13, Addison Trail hosted an "Alexa Scimeca Knierim Day" to celebrate and recognize the success of alumna Alexa Scimeca Knierim (class of 2009), who represented the U.S. during the PyeongChang 2018 Olympic Winter Games with her husband and pairs figure skating partner, Christopher Knierim.
During the "Alexa Scimeca Knierim Day," Addison Trail students and staff wore red, white and blue, and trees around the school were decorated with red, white and blue ribbons. The school also displayed a banner with a message wishing Scimeca Knierim good luck, and her accomplishments were shared. That banner was designed by Addison Trail art teacher Tim Hockensmith.
For more information about Scimeca Knierim and her husband, go to www.TeamAKCK.com.