Addison Trail recognizes AT's Best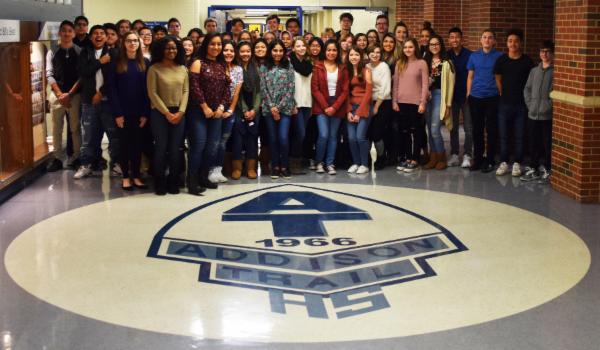 Pictured are Addison Trail students who were recognized as AT's Best during a breakfast in their honor on Feb. 6.
On Feb. 6, 64 Addison Trail students were named as AT's Best.
The AT's Best award honors students who have achieved a "personal best." The following categories have been used to recognize recipients: service, Blazer Pride, cooperation, dependability, initiative, leadership, humanitarian spirit or unique contributions. Students receive a pin or a T-shirt for their efforts and are honored during a breakfast.
AT's Best recipients are:
Senior Nina Caliendo, senior Madeline Danhouser, junior Isaac Etheridge, junior Kris Kusnierz, senior Ethan Macaraeg, senior Burke Parent, junior Connor White
Nominated by English teacher and Theatre Director Anna Jakubka
Freshmen Brooke Littlefield, Yaquelin Hernandez, Madison Muhr, Isabel Quevedo, Lucas Gorniak, Chris Meglio, Justin Diego
Nominated by special education and freshmen house co-teacher Anna Grice, science teacher Laura Garcia, social studies teacher Jose Hernandez, English teacher Sabrina Miller
Nominated by special education teacher Stacey Puccini
Seniors Jessica Cosio, Marianella Gamboa, Lesly Martinez, Samantha Juarez
Nominated by science teacher Andrea Grossart
Freshmen Charles Bekielewski, Sofia Bruno, Gianna Biango, Daniel Carver, Diego Lopez, Kayla Gandara, Keven Juarez, Elizabeth Bernar, Angelina D'Ugo, Daniella Cassata
Nominated by English teacher Katie Inzinga, social studies teacher Mark Olson, science teacher Aileen Sullivan
Freshman Nathan Malinowski
Nominated by Sullivan
Sophomores Kevin Cruz, Kenia DeLira, Crystal Lopez, Noel Lopez, Andrea Villarreal, Evelyn Castro, Ashley Fuentes, Thomas Fuelts, Jayde Thornton, Nicholas Skamra
Nominated by Sullivan
Junior Melissa Bouharati, junior Serena Gilliam, sophomore Amy Reyes, sophomore Brian Avila, junior Karime Martinez, junior Molly Drogosz, junior Danielle Harris
Nominated by social studies teacher Brendan Lyons (Department Head)
Freshmen Perla Vargas, Thomas Nguyen, Israar Ahmed, Christine Thomas, Yusra Naseeruddin, Katherine O'Brien, Gerardo Alvidrez, Mia Johnson, Huda Siddiqui, Emily Stevenson, Gabriela Mendoza, Andrea Simko, Bianca Sitkowski, Sara Walis, Easton Dietz, Brooke Bolsinger, Justine Bugante
Nominated by social studies teacher Christina Trapani, English teacher Patti Subers, Grossart, Miller