District 88 Board of Education recognizes students for fall State-level accomplishments
During its Dec. 18 meeting, the District 88 Board of Education recognized 10 students from Addison Trail and Willowbrook for their State-level achievements from the fall season of the 2017-18 school year.
The students listed below were honored and given a certificate for their accomplishments. To watch the recognition ceremony, go to https://www.dupage88.net/site/page/7900 and click on the items listed under "State Recognitions."
Addison Trail – Science Olympiad (from spring 2017)
Addison Trail Principal Michael Bolden (left) congratulates senior Nicholas Czorniak.
Senior Nicholas Czorniak: Science Olympiad, 4th place in Thermodynamics and 3rd place overall
Addison Trail – Football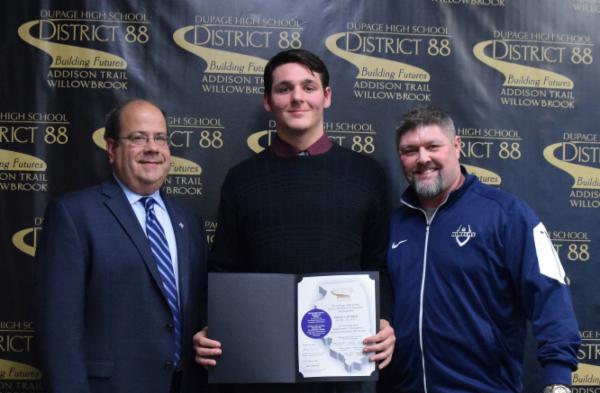 Addison Trail Principal Michael Bolden (left) and Addison Trail Football Head Coach Paul Parpet Jr. (right) congratulate senior Randall Petrbok.
Senior Nicholas D'Ambrose: Illinois High School Football Coaches Association (IHSFCA) Academic All-State
Senior Randall Petrbok: IHSFCA Academic All-State
Willowbrook – Football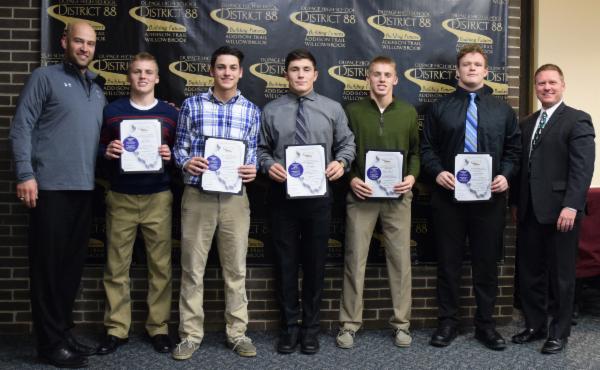 Willowbrook Football Head Coach Nick Hildreth (left) and Willowbrook Principal Dr. Daniel Krause (right) congratulate (from left) sophomore Sam Tumilty, senior Nicolas Sabatino, senior Jack Jessen, junior Scott Tumilty and junior Matt Knudtson.
Senior Jack Jessen: IHSFCA All-State First Team and Academic All-State
Junior Scott Tumilty: IHSFCA All-State Honorable Mention and Academic All-State
Senior Kevon Dobbins: IHSFCA All-State Honorable Mention
Senior Brandon Loth: IHSFCA Academic All-State
Junior Matt Knudtson: IHSFCA Academic All-State
Sophomore Sam Tumilty: IHSFCA Academic All-State
Senior Nicolas Sabatino: IHSFCA Academic All-State