District 88 Foundation Karaoke Night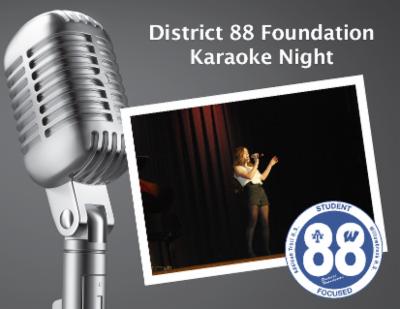 Do you enjoy singing and performing in front of a crowd? Then join the District 88 Foundation for its first Karaoke Night! See all the details below.
WHAT: A Karaoke Night for District 88 students, staff, alumni and community members
There will be two categories:
Karaoke
Lip-synch
WHEN: 7 p.m. Nov. 3
*Performers can arrive at 6 p.m. to prepare
WHERE: Addison Trail, 213 N. Lombard Road in Addison (in the auditorium)
*Transportation will be provided from and back to Willowbrook
COST: $5/entry (pay at the door)
ADMISSION: $2/person – children 12 years old and younger are free (pay at the door)
*Activity Passes and Senior Gold Cards won't be accepted for this event
PRIZES: A panel of judges will award trophies to the winning individuals/groups in the following categories:
Best Voice
Best Lip-Synch
Best Performance
Best Costume (Contestants can bring a costume, or choose from costumes provided by the school – all outfits must be appropriate and follow school policies/guidelines.)
*Winners also will receive a gift card.
REGISTRATION: To participate, sign up by Oct. 30 at www.dupage88.net/KaraokeRSVP
FOR QUESTIONS OR MORE INFORMATION: Contact District 88 Director of Community Relations Dani Brink at 630-530-3989 or dbrink@dupage88.net
Funds raised by the District 88 Foundation have been used to assist students in the following areas.
Supporting the Addison Trail Freshmen Future Focus Initiative Trip to Madison, Wis.
Supporting the Mindprints Literary Magazine at Willowbrook
Subsidizing Advanced Placement (AP)/college-level tests
Providing financial support for textbooks and summer camps
Contributing to the "Author in the House" district-wide program
Providing mini-grants for staff members to develop instructional opportunities to benefit students
For more information about the foundation, go to www.dupage88.net/foundation.