DuPage High School District 88 announces Board of Education vacancy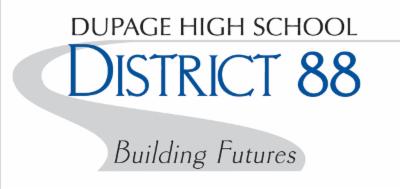 In compliance with Illinois School Code and District 88 Board policy, District 88 announces a vacancy on its Board of Education.
Due to a Board member resignation, a seat on the District 88 Board of Education is open until the next election in April 2019. To apply for the position, go to www.dupage88.net/BoardPosition2017 by July 21, 2017. Selected candidates will be interviewed by the Board of Education in late July or early August. For details about school board member qualifications, go to www.dupage88.net/site/public/files/?item=3228. For questions or more information, contact District 88 Superintendent Dr. Scott Helton at shelton@dupage88.net or 630-530-3990.
District 88 would like to thank Lisa Lullo for her years of service to the district's students and school community, as she has been a Board member since 2011. Lullo also is an alumna of District 88 and graduated from Addison Trail in 1984. Her four children graduated from Addison Trail as well (class of 2006, class of 2008, class of 2010 and class of 2011). We wish her the best in the future and know her impact on Addison Trail and Willowbrook will help build positive futures for our students for years to come.