District 88 participates in 10th Annual Shape of Addison Town Hall Meeting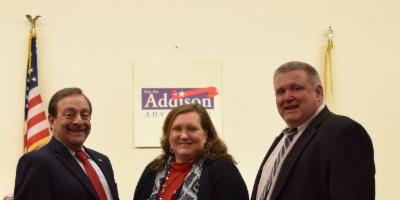 On Jan. 25, District 88 participated in the 10th Annual Shape of Addison Town Hall Meeting, where Board presidents and administrators from the Village of Addison, the Addison Public Library, the Addison Park District, the Addison Police Department, the Addison Fire Protection District, Addison School District 4 and District 88 shared with residents an update with regard to what's going on in the community.
District 88 Board of Education President Donna Craft Cain spoke on behalf of the district, and she and District 88 Superintendent Dr. Scott Helton were available to answer questions from community members. Craft Cain discussed academic, athletic and extracurricular successes from Addison Trail and District 88; financial highlights; and information about Addison Trail's 50th anniversary celebration throughout the 2016-17 school year. For details about anniversary events, go to www.dupage88.net/50thDetails.
The Shape of Addison meeting will be available online at http://tinyurl.com/mog83jq (click on "Town Hall Forums").