Willowbrook names December recipient of 88's Best recognition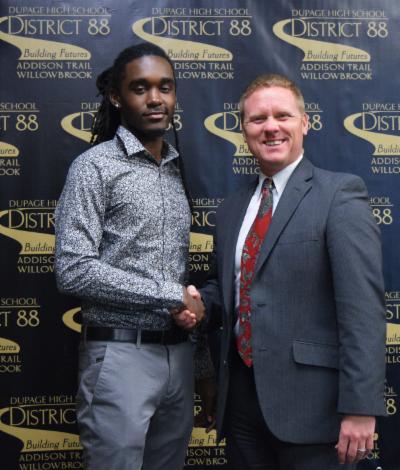 Piarre Easley has been named as Willowbrook's December recipient of 88's Best recognition for his academic accomplishments. Easley, a senior, was recognized during the Dec. 19 District 88 Board of Education meeting. To watch Easley's 88's Best presentation, go to https://www.dupage88.net/site/page/6216.
As a student, Easley consistently pursues the most rigorous courses available at Willowbrook. At the conclusion of his high school career, Easley will have successfully completed four Advanced Placement (AP)/college-level courses and a multitude of Honors courses. He also has been recognized with Outstanding Student honors for the Math Department and has been a member of the Distinction Honor Roll each semester of his high school career.
Easley also is an inductee of the National Honor Society, Civitas (Willowbrook's Social Studies Honor Society) and the National English Honor Society. Beyond the classroom, he demonstrates his leadership as a member of the Principal's Leadership Team, Youth Equity Stewardship Series (YESS!) training, TALENTED, Interact Club and the Black Organization for Student Success.
"Easley is a superb ambassador for Willowbrook High School and is so deserving of this award!" said Regina Wathier, Willowbrook English teacher. "He is kind, friendly, talented and bright."
Social studies Department Chair Pete Montgomery agreed.
"It has been very enjoyable to work with Easley in the YESS! training process," Montgomery said. "He is one of the most genuine young men you will ever meet. He shows respect to everyone he encounters and has a great talent for engaging with his peers and with adults, whether he has known them for years or is meeting them for the first time. He is a great role model for who we want our Warriors to be and how we want them to treat one another."
Willowbrook Guidance Counselor Carmen Avdiu said Easley's personality is what makes him unique.
"Easley is the type of student who is resilient, has always stood out for his leadership qualities and always wears a smile on his face," Avdiu said.
Easley plans to study psychology at Kentucky State University or University of Illinois Springfield and has been named as a Presidential Scholar at both institutions.
District 88 values the hard work and achievements of students and wants to make sure students are honored and recognized for their accomplishments. The District 88 Board of Education and administration created the 88's Best award to highlight students' success. That award recognizes nine Addison Trail and nine Willowbrook students each school year for reaching their personal best in various areas. Recipients are honored during a District 88 Board of Education meeting in one of the following areas: academics, highly improved performance, extracurricular activities, service work or performing arts/electives.