Willowbrook presents 2019-20 fourth-quarter Outstanding Students and Outstanding Teacher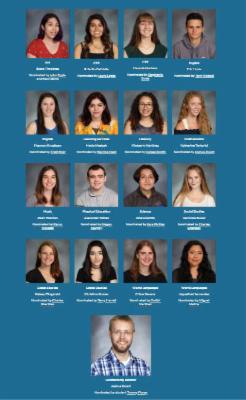 Sixteen Willowbrook students were recently recognized as Outstanding Students for the fourth quarter of the 2019-20 school year. Because of the coronavirus disease 2019 (COVID-19) pandemic, the event was hosted virtually.
Criteria to be chosen for that award include:
Demonstrating extraordinary achievement, outstanding effort, commendable attitude and motivation
Ability to overcome obstacles
Continuous exemplary performance
Willowbrook Principal Dr. Daniel Krause sent the award recipients a message of congratulations, and the staff members who nominated the students recorded videos about the honorees. View the videos at https://sites.google.com/dupage88.org/outstandingstudent/home.
The Outstanding Students are:
Art: Sophomore Elena Timothee
Career and Technical Education (CTE): Seniors Priscilla DelValle and Hannah Martens
English: Seniors Eric Hoda and Shannon Knudtson
Learning services: Senior Hania Mosbah
Literacy: Junior Kimberly Martinez
Math: Senior Katherine Tortorici
Music: Senior Pearl Hosman
Physical education: Junior Alexander Tobias
Science: Freshman Jade Inoshita
Social studies: Seniors Veronika Bukac, Kelsey Fitzgerald and Christina Gomez
World languages: Seniors Chloe Devens and Jaqueline Hernandez
Willowbrook math and Career and Technical Education (CTE) teacher Josh Zwart received the Outstanding Teacher award and was presented by Willowbrook junior Thomas Florey. To earn the Outstanding Teacher award, a staff member must treat teaching as a passion – not just a job, create a positive learning environment where students feel encouraged and supported, use a variety of strategies to engage students, be willing to offer extra support when needed, provide prompt and effective feedback to students on their learning and relate to and understand the viewpoints and perspectives of students.