Relay For Life of District 88 Youth raises an event record of more than $91,000 for American Cancer Society
On March 8, Willowbrook hosted its annual Brook Olympics assembly, which is the culminating event of a weeklong series of events and challenges created to enhance tradition and class spirit and pride at the school. Top left: The senior class cheers during the assembly. Top right: The junior class celebrates being named as the winner of this year's Brook Olympics. Middle left: Seniors compete in the tug-of-war. Middle right: The Willowbrook Pom Pon Team performs. Bottom left: The Willowbrook Color Guard performs. Bottom right: Willowbrook Principal Dr. Daniel Krause participates in one of the races. Photos by HR Imaging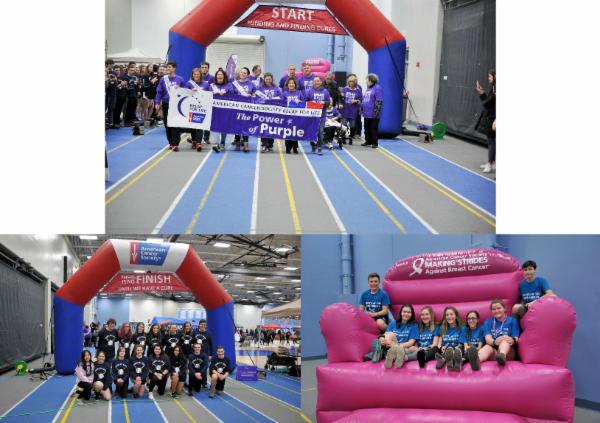 On March 9, the annual Relay For Life of District 88 Youth event took place at Willowbrook. More than 550 staff, students, parents and community members attended the relay, which raised a District 88 record of more than $91,000 for the American Cancer Society. Top: Cancer survivors take the first lap in the relay. Bottom left and right: Students enjoy the event. Photos by HR Imaging
Willowbrook and Addison Trail recently showed giving back is a cornerstone of District 88 pride.
On March 9, the 9th annual Relay For Life of District 88 Youth event took place at Willowbrook, and more than 550 staff, students, parents and community members attended the relay. This year's event raised a District 88 record of more than $91,000 for the American Cancer Society. In total, this event has collected more than $580,000 during the last nine years.
Participants enjoyed a variety of activities and games, and there also was a luminaria to remember those who have lost their battle with cancer and to support those still fighting. The team that raised the most money was Alpha Pi Omega with $19,352. The top individual fundraiser was Willowbrook senior Caitlyn Owen with $3,781.
Willowbrook also has hosted other events throughout the school year to raise money for the American Cancer Society, including "Go Pink" efforts in honor of Breast Cancer Awareness Month and the Brook Olympics (a weeklong series of events and challenges created to enhance tradition and class spirit and pride at the school).
The Brook Olympics took place from March 4 to 8 and culminated with an assembly where classes went head to head in competitions. The juniors were named as this year's winning class. The seniors finished in 2nd place, the sophomores finished in 3rd place and the freshmen finished in 4th place.