Opening doors: Three Willowbrook student-athletes pave the way for girls wrestling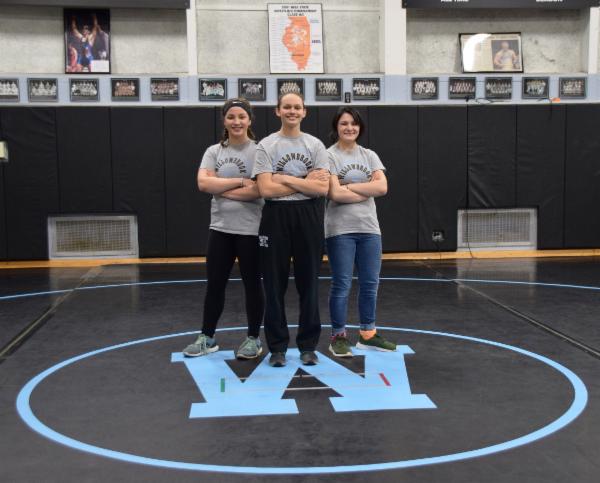 Pictured are (from left) Willowbrook sophomores Gabi Caruso, Samantha Williams and Julia Sivertsen. The three members of the Willowbrook Wrestling Team are paving the way for the sport of girls wrestling.
When Gabi Caruso and Samantha Williams joined the Willowbrook Wrestling Team last year as freshmen, they had high hopes of opening the door to encourage more girls to try out for the team and to show wrestling isn't just a male sport – females can succeed as well.
And they've done just that. This season, Caruso and Williams were joined by sophomore Julia Sivertsen. The three said they're thrilled more girls tournaments are taking place, and they hope that trend continues.
"Wrestling is an amazing sport that really builds character," Williams said. "It's great girls are getting to experience that as well."
Caruso and Williams have been wrestling since seventh grade, and this is Sivertsen's second year in the sport. The girls have had a successful season, and all three made their way to the top of the podium in their weight class at the Homewood-Flossmoor Tournament. This weekend, Williams and Sivertsen will compete in the 3rd Annual Illinois Wrestling Coaches and Officials Association (IWCOA) High School Girls State Championships. That event takes place on March 9 and 10 in Springfield. Caruso was unable to attend the state-qualifying competition, as she was at an orchestra performance.
Last year, Caruso and Williams were the first female wrestlers to complete a season at Willowbrook, and they continue to look for ways to push past boundaries, make school history and pave the way for future female wrestlers. They said they've formed amazing friendships and bonds through the sport.
"I hope girls wrestling gets huge," Caruso said. "And I hope girls in the future don't worry about fitting in – I want them to be able to say, 'I wrestle, so I fit in.'"
Willowbrook Wrestling Coach Tim Ortiz said the three aren't just role models for other girls, but they also set high expectations for everyone on the team.
"When they step on the mat, they don't mess around," Ortiz said. "They're three of the most serious wrestlers on the team, and their hard work shows through their success."
Ortiz added Caruso, Williams and Sivertsen receive no special treatment – they're pushed hard and often have to wrestle the junior varsity and varsity boys. He said he's excited to see the opportunities for girls in the sport continue to grow.
"It's awesome to watch the number of collegiate women wrestling teams and available scholarships increase," Ortiz said. "As the sport expands, more girls are able to experience wrestling, which truly helps develop who you become."
Caruso, Williams and Sivertsen said they plan to wrestle at the collegiate level after Willowbrook. To those who might doubt they belong in the sport, the girls have one response: "Just wait – you haven't seen what we can do yet."