Willowbrook Guidance Department hosts College and Career Awareness Week
From March 19 to 23, the Willowbrook Guidance Department hosted its annual College and Career Awareness Week to encourage students to get college and career ready.
Throughout the week, seniors had the opportunity to fill out a sticker with the name of the college/university or military branch they plan to attend and add it to a poster in the foyer.


On March 19, the Willowbrook Career and Technical Education (CTE) Department facilitated lunch activities that focused on the Science, Technology, Engineering and Math (STEM) field.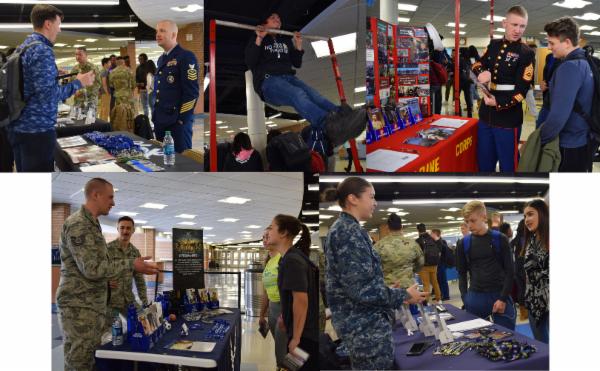 On March 20, representatives from the U.S. Army, Navy, Marines, Air Force, Coast Guard and National Guard met with students during a Military Fair to discuss what each branch has to offer with regard to post-high school options (pictured above). Students also had the opportunity to take the ASVAB test, which is a multiple-aptitude battery that measures developed abilities and helps predict future academic and occupational success in the military.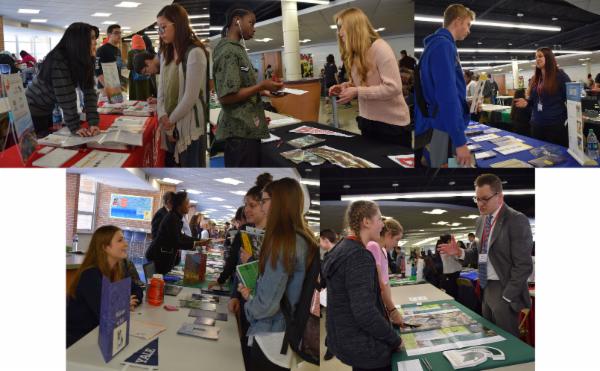 On March 21, representatives from about 60 colleges and universities visited Willowbrook to speak with students about their respective campus during a College and Vocational Fair (pictured above). An Essay-Writing Workshop took place that day as well to help students prepare for their college essays. To see a list of the colleges/universities that were present, go to www.dupage88.net/WBCollegeFair2018.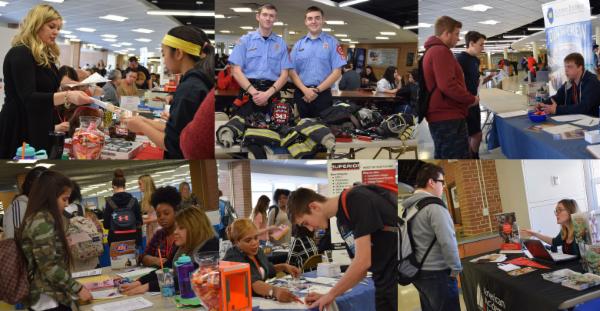 On March 22, about 25 career professionals and local businesses shared their insight and experience in various fields with students during Willowbrook's Career and Vocational Fair (pictured above). A Résumé Workshop also took place that day for students. To see a list of the careers that were represented, go to www.dupage88.net/WBCareerFair2018.