Willowbrook Speech Team earns awards at home tournament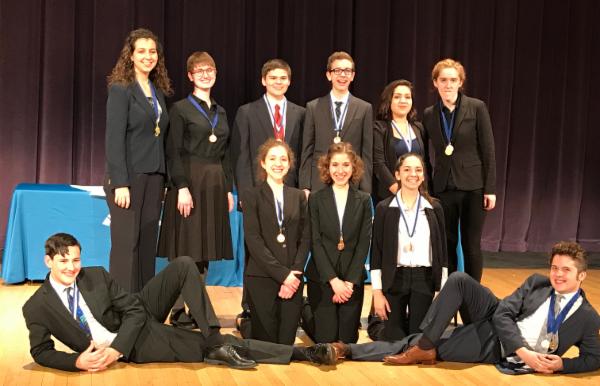 Pictured are members of the Willowbrook Speech Team, who placed during the team's home tournament on Dec. 16. They are (back row, from left) senior Isabella Ledonne, sophomore Chloe Devens, freshman Sean Shepherd, freshman Michael Poirier, sophomore Letisha Sepulveda, senior Genevieve Corkery, (middle row, from left) senior Julia Cicero, senior Kathleen Cicero, junior Renee Maggard, (front row, from left) sophomore Vincenzo Ledonne and senior John DeAngelo.
On Dec. 16, the Willowbrook Speech Team competed in a home tournament at Willowbrook and tied for 3rd place out of 21 schools.
Below are the team's individual results from that event.
Dramatic Duet Acting: Seniors John DeAngelo and Isabella Ledonne, 1st place; Seniors Kathleen and Julia Cicero, 4th place
Dramatic Interpretation: Junior Renee Maggard, 6th place
Extemporaneous Speaking: Sophomore Chloe Devens, 3rd place
Humorous Duet Acting: DeAngelo and sophomore Vincenzo Ledonne, 1st place; Freshmen Sean Shepherd and Michael Poirier, 6th place
Humorous Interpretation: Senior Genevieve Corkery, 1st place
Original Comedy: Corkery, 3rd place; Vincenzo Ledonne, 5th place
Poetry Reading: Sophomore Letisha Sepulveda, 4th place
Prose Reading: Kathleen Cicero, 5th place
Radio Speaking: Isabella Ledonne, Finalist